Jan - 06
2023
Need to Lower Labor Costs While Streamlining Your Facilities?
Unemployment rates have been dropping. More warehouses are opening, particularly to serve e-commerce customers. And even if you hire someone, warehouse workers quit at a rate of 36% (according to the Bureau of Labor Statistics), and are often known to hire on at the next facility just down the street for an extra $0.25/hour.
Consider a flex labor strategy. That means designing your operations to be managed by a few core, full-time employees, then scale up at peak times (daily and/or seasonally) with part-time or temporary labor to handle periods of high demand.
Key to making flex labor work, however, is automation. With an automated storage and retrieval system (AS/RS) in place—such as horizontal or vertical carousels or vertical lift modules (VLMs)—you can gain a dramatic uptick in worker productivity for higher throughput with fewer associates.
Ok, so how does this work, exactly?
Realize the Productivity Boost of Automation
First, with one or more AS/RS in your operation, you eliminate the walking up and down aisles associated with finding and picking items from static shelves. Labor-intensive and costly, picking orders this way can cost as much as 55% of total warehouse operating expenses. That's because walking—not picking—accounts for as much as 65% of an associate's time in a conventional, manual warehouse.
Adding an AS/RS leverages the all-important goods-to-person method of presenting required items right in front of the picker, who now only has to take a few steps at a time to fill orders. That immediately means less time spent walking, and more time spent picking.
Create Pods of Automation for Even Higher Productivity Rates
If several of these machines are grouped together in what's called a "pod," picking gets even faster. That's because as the stored inventory rotates to the picking point of one unit, the operator can be picking from another machine sitting just a few feet away. Adding indicator lights that point to a needed item's location speeds things up even further, as does utilizing on-board software to sequence machine movement to match required picks.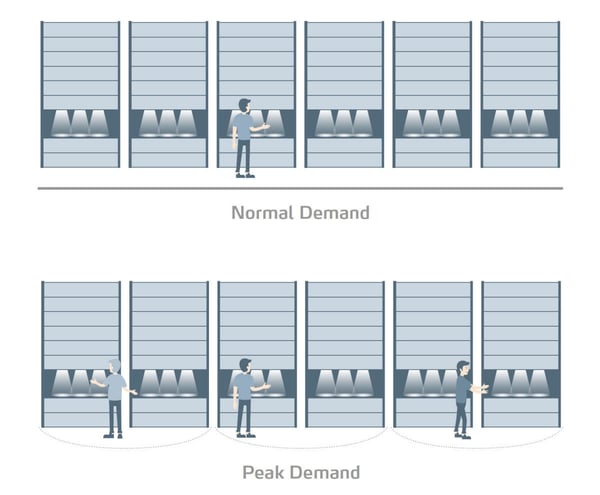 Depending on the level of automation you install, you'll optimize your current labor force and boost productivity anywhere from 200% to 600%. Because an AS/RS lets just one worker handle the picking assignments of several associates, you can reassign as much as two-thirds of your workforce to other, non-picking tasks—without a loss of throughput. (Or, you can use the automation to compensate for scarce or unreliable labor.) This productivity boost is what enables a flex labor strategy.
Then, Use a Flex Labor Strategy To Meet Peak Demand
Now that you're working lean and mean, you are able to implement a flex labor strategy via your inventory management software to handle spikes in demand. During peak times of day or peak seasons, you "flex" your workforce, adding part-time or temporary workers to help maintain that high level of throughput during your busiest periods.
For example, during periods of typical demand, a pod of six VLMs, vertical or horizontal carousels can be treated as one workzone managed by one operator. When demand spikes, however, you can easily split the six storage units into TWO workzones within the inventory management software, then assign two employees—one to each of the two workzones—to fill orders faster by doubling your throughput.
And, pods don't have to be broken in to equal numbers of machines. Based on your slotting, in a pod of 10 machines typically picked by two associates during routine throughput periods, it may be more effective to have two workers each assigned to three separate storage units with faster moving products, and a third worker assigned to four units with slower moving products during peak periods. Regardless of what configuration works best for you, flexing workzones and labor is easily managed in the software with a click of a button.
So how does this work in reality? Consider these examples:
To accommodate an uptick in orders in advance of seasonal spikes, such as back-to-school or fourth quarter holidays, divide your existing automated pods from single to multiple workzones and add the corresponding number of part-time or temporary employees for as many shifts as needed to increase throughput. Once the season ends, return to your original workzone configuration.
Handle the late afternoon uptick in fulfillment processing that needs to be done by a certain time (in order to meet a pre-determined shipping cut-off time, for example) by automatically setting the software to split each automated pod into multiple zones for a certain period of time each day, say noon to 3:00 p.m., then return to your standard operating mode. Just seeing demand spikes on Thursday afternoons? Set the system to flex only on that day.
Concerned about training new or temporary workers walking into your flex system? Don't be. When these automated machines are outfitted with the indicator lights mentioned before, they make it super easy for someone unfamiliar with your operations to learn how to pick from them. After a brief introduction to the equipment, new personnel can become highly productive in just a few minutes.